If you are not afraid when you read this, you should be.  Understand that disarming our country would place us in a position where we could not defend ourselves...................and that my friends is a treasonous act.  Given the state of the world today, what Mr. Obama is proposing is extremely naive and dangerous for our country.
.............................................................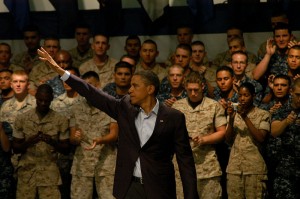 Barack Obama actually plans to do it.  He actually plans to neuter America by unilaterally dismantling most of the U.S. strategic nuclear arsenal.  In fact, Barack Obama says that the United States has a "moral obligation" to disarm as we lead the way to "a world without nuclear weapons".  Sadly, a "world without nuclear weapons" is a fantasy that will not be possible any time soon.  Nuclear weapons technology is getting into more hands with each passing year, and geopolitical tensions are rising all over the globe.  If the United States did not have nuclear weapons, anyone with just a handful of nukes would constitute a massive threat to our national security.  An overwhelming strategic nuclear arsenal helps keep us safe because every other nation on the planet knows that it would be national suicide to attack us.  If you take that overwhelming strategic nuclear arsenal away, the entire calculation changes.
Many out there claim that even if the U.S. only has a few hundred nuclear warheads that it will be more than enough to be an effective deterrent.
Sadly, that simply is not true.
If an enemy knows that we only have a few hundred warheads, and if they know exactly where those warheads are located for verification purposes, then a first strike which would take out the vast majority of our operational warheads becomes very plausible.
That is why what Obama wants to do is so incredibly dangerous.  If he reduces our strategic nuclear arsenal down to almost nothing, the odds of a nuclear first strike against the United States someday go up dramatically.
The following is what Fox News reported that Obama said during a speech in South Korea the other day....
"American leadership has been essential to progress in a second area -- taking concrete steps towards a world without nuclear weapons," Obama said yesterday during a speech in Korea. "I believe the United States has a unique responsibility to act -- indeed, we have a moral obligation."
A moral obligation to do what?
A moral obligation to neuter America?
Read more here:  http://endoftheamericandream.com/archives/barack-obama-it-is-a-mora...